Home

/

PAD THAI NOODLES MEAL KIT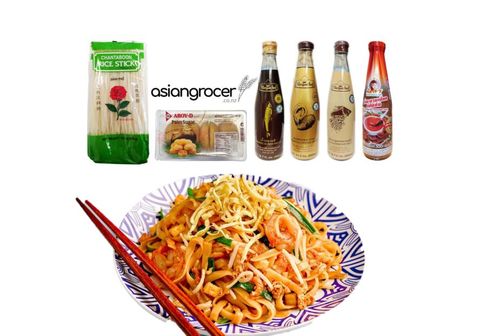 PAD THAI NOODLES MEAL KIT
Description
Combo Pack Includes:
1 pkt Palm Sugar AroyD 454g
1 pkt Pad Thai Noodles Rose 375g
1 bot Fish Sauce Mega Chef 200ml
1 bot Oyster Sauce Mega Chef 230g
1 bot Soy Sauce Mega Chef 200ml
1 bot Tamarind Sauce Concentrate Nongporn 300g
SUBSTITUTION: Occasionally, certain items in the combo pack / meal kits are unavailable when we are processing your order. Items which are unavailable will be substituted for a similar product /brand, at a similar price for no extra charge.
Prep Time: 15 mins / Cook Time: 15 mins / Serves: 2 persons
Ingredients:
100g dry Pad Thai noodles
1 large shallot/onion, finely diced
4 chopped garlic cloves
1 teaspoon chopped ginger (optional)
2 eggs, whisked with a fork with a generous 3-finger pinch salt
200g tofu, chicken breast or peeled prawns
salt and pepper to taste
2 tablespoons cooking oil
1 lime (or lime juice)
Pad Thai Sauce:
3 tablespoons fish sauce
3 tablespoons palm sugar (or coconut sugar/ brown sugar/ regular sugar)
3 tablespoons of tamarind sauce/ paste (or vinegar)
1 teaspoon Megachef soy sauce
Garnish:
Lime wedges, fresh bean sprouts, chili flakes, chopped scallions, roasted peanuts.
Instructions:
1. Cook the noodles according to package instructions. Cover with boiling water for 7 to 8 minutes, until tender, then drain. They don't have to be totally soft, just bendy and pliable.
2. Chop shallot, garlic and ginger and set aside.
3. Whisk the two eggs with a fork and add a generous, 3-finger pinch of salt.
4. Make the Pad Thai Sauce by whisking fish sauce, tamarind sauce or paste, palm sugar and soy sauce in a small bowl.
5. Slice chicken into very thin strips, season with salt and pepper. Tofu: Blot tofu with paper towels pressing down firmly. Cut tofu into ¾ inch cubes, sprinkle with salt and pepper, and for extra crispy, dredge in a little corn starch. Shrimp: Peel and season with salt and pepper. COOK: Sear the seasoned chicken, shrimp or tofu in a wok with hot oil until cooked through over medium-high heat. Set aside, on top of a paper towel, wipe out the pan. Turn heat off.
6. Heat 2 tablespoon peanut or vegetable oil in the wok over medium heat, add shallot-garlic-ginger and stir, cooking just a few minutes until golden and fragrant. Add the whisked eggs. Scramble them and break them apart into little bits, letting them brown just little, and incorporate them into the shallots continuing to break them into small bits.
8. Add the drained, semi-soft noodles and toss with the egg mixture, stirring, flipping, frying constantly for 3-4 minutes, until noodles become soft and pliable.
9. Add the Pad Thai Sauce and cook 1 minute. It will smell quite fishy at first but it will mellow out perfectly. Add the cooked chicken, tofu or shrimp and turn and toss the noodles for a few more minutes.
10. Toss in the bean sprouts and roasted peanuts, sprinkle with chili flakes and scallions. Squeeze with the lime. Taste. Adjust salt, lime and sweetness to your liking adding a pinch of salt, more lime or more sugar to taste.
11. Garnish with more bean sprouts, fresh spring onions, cilantro/basil, chili flakes, lime wedges and roasted crushed peanuts. Or make this Peanut Chili Crunch.
Customer Reviews and Ratings
Everything you need and more

This Pad Thai meal kit is such a time saver. I wouldn't know or have the time to look through the website to know which products to buy or the brand.

The great thing is that there is soy sauce and fish sauce I can use for other dishes and the Megachef brand is a famous brand which is the best you can buy.

Highly recommend this Pad Thai Combo! Thanks Asian Grocer!