Home

/

MALAYSIAN CHICKEN CURRY COMBO PACK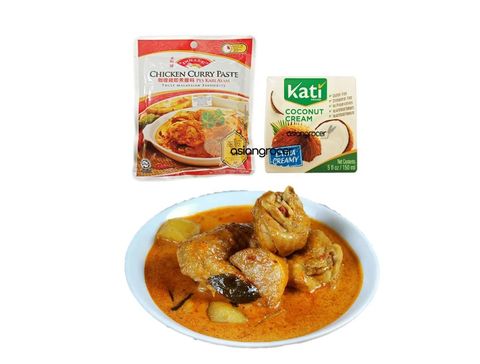 MALAYSIAN CHICKEN CURRY COMBO PACK
Description
Combo Pack Includes:
1 pkt Chicken Curry Paste Dollee 200g
1 pkt Coconut Cream Kati 150ml
SUBSTITUTION: Occasionally, certain items in the combo pack / meal kits are unavailable when we are processing your order. Items which are unavailable will be substituted for a similar product /brand, at a similar price for no extra charge.
Prep Time: 15 mins / Cook Time: 20 mins / Serves: 6 to 8 persons
Ingredients:
1 packet Dollee Chicken Curry Paste
1.5kg Chicken
3 Potatoes
350-500ml water
150ml coconut cream
Instructions:
Stir fry 1 packet of Dollee Chicken Curry Paste with 1.5kg chicken pieces and 2 potatoes which have been cut into cubes for 5 minutes.
Add 350-500ml water and let simmer for 15 minutes or until the meat is tender and potatoes have soften.
Add 150ml coconut cream. Stir well and bring to a quick boil. Serve hot with rice or bread.You may add less coconut cream if you want the curry to be more spicy and not so creamy.
Customer Reviews and Ratings
No Reviews
Be the first to review this product!