Home

/

THAI GREEN CHICKEN CURRY COMBO PACK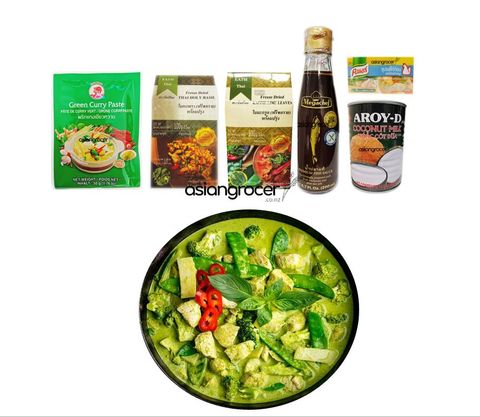 THAI GREEN CHICKEN CURRY COMBO PACK
Description
Combo Pack Includes:
1 pkt Green Curry Paste Cock 50g
1 pkt Freeze Dried Holy Basil leaves 2g
1 pkt Freeze Dried Kaffir Lime leaves 4g
1 bot Gluten-free Fish Sauce Mega Chef 200ml
1 cube Chicken stock Knorr 24g
1 can Coconut Milk Aroy-D 400ml
SUBSTITUTION: Occasionally, certain items in the combo pack / meal kits are unavailable when we are processing your order. Items which are unavailable will be substituted for a similar product /brand, at a similar price for no extra charge.
Prep Time: 15 mins / Cook Time: 20 mins / Serves: 4-5 persons
Ingredients
50g Thai Green Curry Paste
2 large garlic cloves, minced
2 tsp fresh ginger, finely grated
1 tbsp lemongrass powder
2 tbsp vegetable oil
1 cube chicken stock (24g)
400ml coconut milk
1 tsp gluten-free fish sauce
1 tsp white sugar
Salt to taste
4g Freeze Dried Kaffir Lime Leaves
350g chicken thigh, skinless boneless, sliced
2 eggplants, cut into 1cm slices
1 1/2 cups snow peas, small, trimmed
2g Freeze Dried Holy Basil leaves
Lime Juice to taste
GARNISHES:
Crispy fried Asian shallots, high recommended
Coriander, recommended
Green or red chillies slices, optional
Steamed jasmine rice
Instructions:
Heat oil in a heavy based skillet or pot over medium high heat.
Add the green curry paste, garlic, ginger and lemongrass powder, and cook for 2 to 3 minutes until it mostly "dries out".
Add chicken stock cube, 250ml water and 400ml coconut milk, mix to dissolve paste.
Add 1 tsp fish sauce, 1 tsp sugar, and salt to taste.
Add 4g kaffir lime leaves. Mix then bring to simmer.
Add chicken, stir then lower heat to medium so it's bubbling gently. Cook 7 minutes.
Add eggplants, cook 5 minutes until soft.
Taste sauce. Add fish sauce or salt for more saltiness, sugar for sweetness.
Add snow peas, cook 2 minutes until a bit softened, then stir through the 2g of holy basil and lime juice. Sauce should have reduced but will still be on the thin side, not thick - that's how it's should be. DO NOT keep simmering - sauce will darken.
Serve curry over steamed jasmine rice with garnishes of choice.
Customer Reviews and Ratings
No Reviews
Be the first to review this product!