Home

/

DOLLEE CHICKEN CURRY PASTE 200G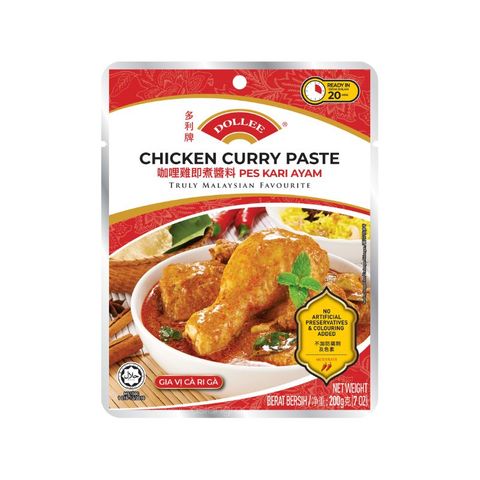 DOLLEE CHICKEN CURRY PASTE 200G
Description
Everyone's favourite Malaysian Chicken Curry, it is so easy to enjoy at home with this DOLLEE's Chicken Curry Paste. Just add chicken, potatoes and coconut milk to savour this Pan Asian favourite.Truly Malaysian.
Customer Reviews and Ratings
My 'go-to' curry paste every time

I have tried many brands of ready-made curry paste, and my family finds this to be one of the tastiest. And it has the added bonus of containing soy oil instead of palm oil.

Easy and delicious

For a family of 5, I usually use 2 packets of this Dollee Chicken Curry Paste to cook around 700g-1kg of chicken meat. Added with potatoes and coconut milk to create the perfect balanced Malaysian curry dish. This curry is very flavourful, best to serve with white steamed rice and roti chanai. Irresistable.