Home

/

BAK KUT TEH COMBO PACK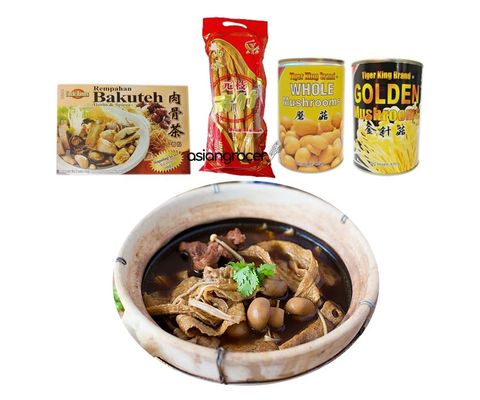 BAK KUT TEH COMBO PACK
Description
Combo Pack Includes:
1 pkt Uncle James Bakuteh Herbs & Spice with Soy Sauce 90g
1 pkt Dried Bean Curd Stick 150g
1 can Whole Button Mushroom 425g
1 bottle Golden Mushroom 425g
SUBSTITUTION: Occasionally, certain items in the combo pack / meal kits are unavailable when we are processing your order. Unavailable items will be substituted for a similar product /brand, at a similar price for no extra charge.
Prep Time: 15 mins / Cook Time: 60 mins / Serves: 3-4 persons
Ingredients:
600g pork ribs
1 packet Uncle James Bakuteh Herbs & Spice with Soy Sauce 90g
5 cloves of garlic (washed & unpeeled)
1 can whole buttom mushroom 400g
1 can golden mushroom 400g
150g dried bean curd stick
Lettuce (torn to pieces)
Instructions:
Soak the dried bean curd into water until softened.
Blanch pork ribs in a pot of boiling water for a few minutes. Rinse blanched pork ribs and set aside.
In a deep soup pot, add 1 sachet of uncle james bak kut teh herbs & spice mix, 2 litres water, garlic cloves, uncle james soy sauce (satchet included in the box), and blanched pork ribs. Bring to a boil, then reduce heat to a simmer for about an hour, or until the pork ribs are tender. Note: Add more water as needed any time during the simmering process.
During the last 10 minutes of simmering, add the button and golden mushrooms, and softened bean curd stick. Simmer until the bean curd is softened to your liking.
Season to taste with salt or light soy sauce. If you prefer a darker coloured soup base, you can add dark soy sauce. While the soup is hot, you may add some lettuce. Serve with hot steamed white rice and enjoy!
Customer Reviews and Ratings
No Reviews
Be the first to review this product!