Home

/

TRADITIONAL KAYA (COCONUT JAM) 400G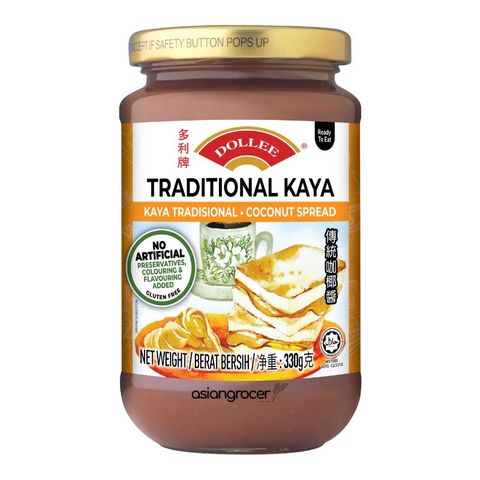 TRADITIONAL KAYA (COCONUT JAM) 400G
Description
'Kaya' is a sweet coconut jam/ coconut spread which is very popular in Southeast Asia especially Brunei, Malaysia, Singapore, Thailand, the Philippines and even Indonesia. Also known as 'Srikaya', it is often eaten with toast or added to baked products such as bread and pastries.
What is kaya made of?
Kaya is made of coconut milk, egg and caramelized sugar. Eggs naturally bind the ingredients together while sugar provides sweetness to the jam besides acting as a natural preservative.
Does kaya go bad if not refrigerated?
When stored unrefrigerated, kaya can last up to a week. Discard if it starts to get moldy.
Dollee's Kaya (Coconut Spread) is exactly like how your grandma used to make it at home. All-natural, it is made from Coconut Milk, Sugar and Pandan (Screwpine Leaves). There is absolutely no added artificial preservatives, flavouring or colouring. Dollee also does not cut corners and there is no added flour unlike some commercial versions of this sweet treat.
Dollee Traditional Kaya is a more nostalgic flavour and has stronger hints of Caramel.
Dollee Pandan Kaya is a more modern version with a stronger aroma of the fragrant Pandan leaf.
Customer Reviews and Ratings
1 Day delivery

Amazing!!!
I ordered yesterday and received now.
I recommend the Asiangrocer for your well-being mind.
Kaya jam is nice as well.
Thank you.

sweet, creamy, aromatic

The texture is smooth, and the taste is as close as the ones that my late aunt used to make. It's sweet, creamy, aromatic, and without any lumps, it's simply the best.