Home

/

NASI LEMAK SAMBAL DOLLEE 240G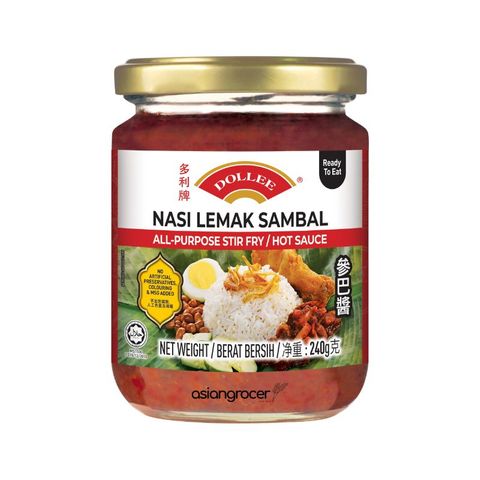 NASI LEMAK SAMBAL DOLLEE 240G
Description
The star in a Nasi Lemak (Coconut Rice) is the Sambal. Dollee Nasi Lemak Sambal can be eaten straight from the bottle with Nasi Lemak, fried rice or noodles or used to prepare your very own favourite dish.
Contains Soy and Crustacean. Gluten Free.
Serving Suggestions:
1. Best eaten with rice (preferably coconut rice), fried rice, fried noodles or fried vermicelli.
2. To enhance taste, stir fry sliced onions until soft and mix it with Nasi Lemak Sambal. Add sugar to taste. Mix well.
3. Excellent as a paste for stir frying eggplant, okra, vegetables and seafood.
Customer Reviews and Ratings
Delicious

Authentic taste. Handy for quick nasi lemak meal. Delicious

Wow - so yum!

I first bought this for my authentic Malaysian dishes, but found myself adding it to almost anything that needs some zing. I now add it to baked salmon which takes away the richness and adds complexity. Add it to fried egg with rice or even veges.

Will make sure I have a spare jar in my pantry all the time. Thanks Asian Grocer for this awesome product!